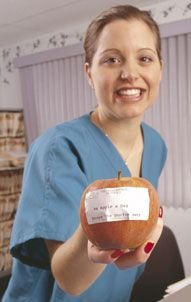 Periodontal disease is a condition in which the structures that support the teeth, including the gums and bone surrounding each tooth, become infected and begin to break down. Periodontal disease (also known as "periodontitis") can be influenced by the body's response to infection caused by the bacteria in plaque. Poor oral hygiene in children could set the stage later on for gum disease - the major cause of tooth loss in adults. It is most often caused by bacteria.
In the early stage of gum disease, called gingivitis, the gums can become red, swollen and easily bleed. At this stage, the disease is still reversible and can usually be eliminated by daily brushing and flossing.
Like some diseases, gum disease isn't painful until it reaches a more critical stage, in which treatment options narrow. If it goes unchecked, inflammation begins to allow surrounding bone to demineralize and dissolve. As the bone dissolves around the teeth in the more advanced stages of gum disease, called periodontitis, the gums and bone that support the teeth can become seriously damaged. The teeth can become loose, fall out, or have to be removed.
Early symptoms of gum disease
Gums that bleed when you brush your teeth
Red, swollen or tender gums
Gums that have pulled away from the teeth
Persistent bad breath
Pus between your teeth and gums
Loose teeth
A change in the way your teeth fit together when you bite